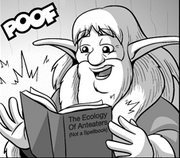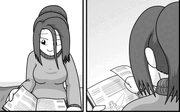 Magic users use Spellbooks for finding out what new spells they get and details about the spells' workings. Spellbooks are very verbose,[1][2] so it can be hard to understand some details, but without one a person may completely miss getting a new spell.
(Although note that the spellbooks appear to include illustrations[3] ...)
Nanase reads her spellbook regularly[1][4], Elliot is known[5] for not doing so. Surprisingly, Susan also forgot to read hers, as we found out in Playing With Dolls[6][7]. Presumably, she read it after Jerry gave it to her[8] after her awakening, but didn't look for anything new until the end of Playing with Dolls.
Ellen reads her spellbook more often than Elliot, because Nanase reminds her and sometimes reads it to her.[9]
Spellbooks can easily be created and linked to a person by an immortal, but mortals can also create them - usually when they are wizards or using a wand with necessary spell.[10]
Spellbook titles
Edit
Spellbooks have titles disguising them using tactics similar to Edward Verres'.[10] Those include:
The Ecology of Anteaters (Not a Spellbook)[8], Susan's spellbook
A Perfectly Normal Book[11], Elliot's spellbook
(also, Nanase's book might have squirrels in title.[1])
People known to have spellbooks
Edit
Presumably, all wizards have one, but any such books haven't been seen yet. Notably, Justin is awakened but doesn't have a book yet.
References
Edit
Community content is available under
CC-BY-SA
unless otherwise noted.