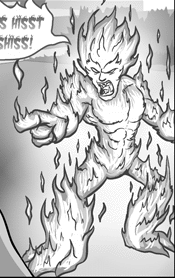 The fire summons were monsters summoned by Dex while he was empowered and mind-controlled[1] by Voltaire.[2] They were of a common type of summoned creature that can be summoned with different looks and abilities. Trying to make them made of fire, however, only made them look like fire and vulnerable to water.[3]
The first fire summon appeared outside Salty Crackers Comics,[4] Justin asked the summon what it wanted but it attacked Justin.[5] Justin punched it so hard that it fell on George's car and damaged it.[6] The summon shot a fireball (which wasn't actually fire[7]) at Justin.[8] The fireball was blocked by Elliot,[9][7] who was using his superheroine form (Cheerleadra) for the first time. Justin asked the summon to surrender.[7] The summon shot more fireballs, some of which were blocked by Elliot, and those that Elliot couldn't block damaged a fence.[10] Then Justin kicked the summon so hard that it fell into a river,[11] where it was extinguished.[12]
A fire summon was later summoned at the ASMA Dojo in the presence of Greg and Eric.[13] When Elliot and Grace entered the dojo after Eric ran out[14] Dex summoned more fire summons to hold Greg and Grace while a dragon attacked Elliot[15] and presumably kept summoning more all the time. Greg easily destroyed the fire summons that he was fighting. Grace couldn't break free at first but then turned into a squirrel to slip out of the grasp of the summon that was holding her.[16] A fire summon grabbed Greg while he was talking to Dex[17] but Greg presumably defeated the summon soon after. When Greg taught Grace the sleeper hold he demonstrated it on a fire summon and Grace practiced it on another.[18] When Grace was about to use the sleeper hold to knock out Dex she and Greg had to go through a group of fire summons guarding him.[19] When Dex was knocked out all of the fire summons were unsummoned.[20]
References
Edit
Community content is available under
CC-BY-SA
unless otherwise noted.