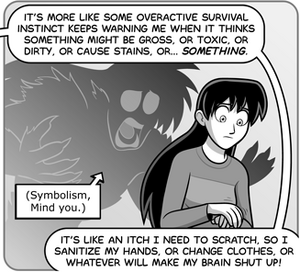 In most comics, it's obvious what is actually happening in comics and what is just artistic license. It may not be entirely clear in EGS, given Magic's flair for drama and fact that multiple character have canonical illusion powers[1] ...
Angry Eyes of Doom
Edit
Angry eyes of doom were first used on EGS Main Story Comic for 2011-01-05 with notable commentary that yes it's artistic license and was chosen as alternative for some fire effect in background, which Elliot could really make happen (also Nanase and Justin). Elliot MIGHT been able to make the eyes as well, but he never shown it and Sarah wouldn't be able to do it.
They were used again on EGS Main Story Comic for 2011-09-29 by Nanase, Ellen and Grace - again, Grace can't use spells like that, although maybe she could make that effect with shapeshifting.
Magical hair manipulation fairies
Edit
Case of hanging a lampshade on this problem are hair manipulation fairies, who complain on EGS:NP Comic for 2006-10-25 that they don't get credit for anything and later are confirmed to be real in the outside-of-continuity Q&A content on EGS:NP Comic for 2011-07-26.
They are unlikely to be canon in actual canon and badass-hair-in-wind-without-wind are supposed to be artistic license, although Susan (who is shown with them often) might get some hair-related powers later (but not yet)[2].
References
Edit